THE WAY WE LIVED
Every photographer has their own agenda ... and Nick Hedges was no exception.
They love the dereliction and the striking image in an "Oh, the deprivation !" kind of style.
(It should be noted that he was hired by 'Shelter', the housing charity, amongst others, to record
the state of our inner cities.)
I was a kid in the 1970s (5-15 yrs. old) ... And there was plenty we disliked,
and were determined to change - the boredom and casual bigotry being among them.
(And a grim, dowdily dressed older generation who constantly banged on about
WW ll, like it was the best thing in the world and we were both soft and
spoiled for not having lived through it)
There is another side, though ... we didn't know we were 'deprived' -
and we were wild and free and reckless - unfettered by social media,
aspirational bullshit and a surveillance society ...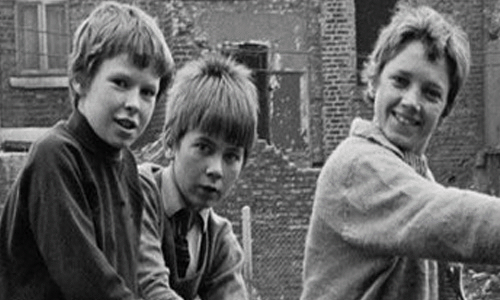 I ... I sometimes used to wonder how my grandparents' generation used to feel ...
going from a horse-drawn world through the eras of the telephone, the radio, the flying machines
and the atom bomb - ending in the very early years of the computer age. I'm starting to understand it -
it's odd. I can even get a little wistful about 'the age of concrete' - compared to the Orwellian present -
with its 'slavery is good' and 'you too can be president - just follow the rules' vocabulary.